A once popular but now unfashionable maxim was that behind every successful man there stood a woman. This rang true in the case of Alan Hovhaness, who was fortunate (and perhaps astute) in being married more than once to a wife able and happy to accommodate herself to serve his cause. Following his death in 2000, his last wife, Hinako Fujihara Hovhaness, continued to actively support his music as she had done during their marriage. But his passing must have brought a greater sense of responsibility, now resting upon her shoulders, to keep alive the legacy of her husband, a non-establishment figure potentially in danger of fading from the broader narrative. As it turned out, promoting his music was for her more an act of love than labour, effectively becoming her life's purpose.
As indefatigable as she often seemed, in December 2022 Mrs. Hovhaness herself passed away at the age of 90, having spent the two decades since her husband's passing as a forceful and proactive advocate for his music — often on her own uncompromising terms. Below we shine a light on these wide-ranging but little-known accomplishments, efforts which undoubtedly brought Hovhaness's music to younger generations of performers and listeners throughout the world.
Early Years and Meeting
Hinako Fujihara was born in Osaka, Japan, to a Japanese father and Korean mother. Early on, she had a brief career appearing in Japanese motion pictures and singing publicly. Following her first marriage to an American, the couple settled in Seattle in 1956 and had three children, but she later resumed her singing activities. Having already sung songs by Hovhaness she first encountered him in 1974, rather ironically, at a two-piano recital he was giving with his current wife. A relationship somehow developed and the couple, once both divorced, eventually married in 1977. He was 66, his bride 21 years his junior and it marked the start of a 23-year marital and musical partnership. A 1984 KCTS television documentary shows the composer making the curious claim: "I always wanted to marry a Japanese girl, and unfortunately earlier in life I always found myself not married to a Japanese girl.
Publishing and Performing
With Hovhaness having parted company from his main publisher CF Peters around 1973, and now having to share music royalties with his former wife (as alimony payment) Alan and Hinako set up the Fujihara Music Company Inc. Whilst this gave them full royalties and control over his new music, it also meant all promotion would have to be in-house, not an easy task in a pre-internet age, which is perhaps why certain pieces were still licensed to other publishers. The home the couple eventually settled into was in Seattle's southern suburb of SeaTac near the airport, and they had their basement extended to accommodate the composer's numerous printed scores, manuscripts and tape reels. The publishing company was run by Hinako, with tasks including the photocopying of all rented and purchased Fujihara music from the composer's original manuscripts; she even took pleasure in the laborious photocopying of entire sets of orchestral parts, which were then packaged and driven off to the post office. Later on, with an assistant, she embarked on the large project of scanning to PDF a large portion of the full Fujihara catalogue.
Hinako and her husband also made time to give singing recitals, initially with the intent of promoting her as a singer. These recitals involved performing new or recent works composed especially for her voice. In addition to recitals, wherever the composer went — concerts, student workshops, radio interviews — his wife was his travelling companion, logistics coordinator and often chauffeur. Visitors to the Hovhaness household would usually request appointments through Hinako, hoping for a "Yes" response, and in this respect, she was something of a shielding gatekeeper. When the composer's lifelong friend and early advocate the late Dr. Elizabeth Gregory was interviewed about Hovhaness, she reminisced on the three wives she had known, remarking of Hinako "I have to say that she was a very fine wife to him" adding the caveat "...she protected him from people, maybe sometimes too much."
Setting Up a Recording Company
Just as Hovhaness's previous wife, Elizabeth, was instrumental in setting up and running the Poseidon Society record label, to make and sell recordings of her husband's music, so Hovhaness and Hinako set up Pandora Records for the same purpose. The 1979 inaugural release featured Hovhaness conducting the first performance of Symphony No.38, with a soprano part written for Hinako's voice. The follow-up release coupled Symphony No.31 with Hinako singing songs composed for her by her husband, who accompanied on piano. The discovery of another record label called Pandora Records led to the Hovhaness's company being renamed Fujihara Records, and three more 12-inch vinyl releases followed comprising Symphonies Nos. 40, 47 and 59 as well as more new songs performed by the couple.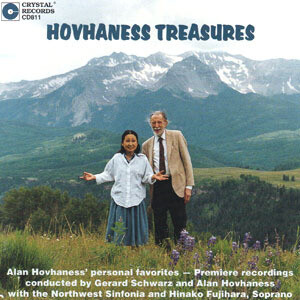 In the 1990s Hinako featured on two more commercial recordings. 1995 saw Crystal Records release a "Hovhaness Treasures" CD, which included tracks featuring Hinako's singing, and in 1997 a Koch release featured two newly-recorded vocal movements from the aforementioned Symphony No.38, of which the UK's Gramophone magazine critic remarked that her voice: "...is not unlike a [Vaughan Williams] Lark Ascending of some rare Asiatic breed." On this point, Hinako's very high singing register was often credited as "coloratura soprano" on several of the above recordings, and her undeniably distinctive tone drew diverse responses from observers. In the 1970s conductor Andre Kostelanetz observed "...a beautiful voice, and the high notes and intonation are perfect", whereas in reviewing the 1997 Koch CD, MusicWeb rather circumspectly commented on a "...vulnerably fragile voice in ionospherical melisma".
Commericial Recordings Impresario
Hinako left her greatest mark in spearheading a whole host of commercial recordings from the 1990s onwards. The accessibility of Hovhaness's music meant there were always enough performances and broadcasts to bring in steady royalties. These in turn helped finance the expensive business of hiring orchestras and ensembles to make commercial recordings. In the mid-1990s Hovhaness was well served by the Delos label, which issued a flurry of six Hovhaness CDs from 1993 to 1995, the first of which — featuring the vehement Mount St Helens Symphony — proved something of a classical bestseller. Thereafter Hinako maintained a relationship with Robert Wood's Telarc recording label, resulting in four all-Hovhaness CDs from 1995 to 2003, including a very successful CD made by harpist Yolanda Kondonassis.
After the loss of her husband in 2000, Hinako seemed more determined than ever to plough the royalties into further recordings. In the decade of the 2000s, and now in her seventies, Hinako nurtured a very fruitful relationship with Klaus Heymann, head of Naxos Records, and his Japanese wife. This resulted in seven all-Hovhaness CDs released between 2003 and 2018. Although appearing on a globally famous budget label, these Naxos discs were very much 'Hinako projects' as she was essentially the uncredited executive producer on all of them. Not only did she finance the recordings — with some made more cheaply in Europe than the United States — she also chose much of the repertoire, which comprised mainly late-period music that Hovhaness had composed whilst married to her. Most of the Naxos releases have Hinako's enthusiastically penned booklet program notes, complete with anecdotes about her husband related to the music at hand. She even chose the cover artwork for each Naxos CD, all from oil paintings by her mother, the artist Jun Fujihara whose work achieved modest success in 1960s New York.
To commemorate the composer's birth centenary in March 2011, the Seattle Symphony conducted by Gerard Schwarz gave two concerts whose first halves were devoted solely to Hovhaness's music. Hinako, however, wanted to dedicate a concert of her own to her husband and hired out the S. Mark Taper Auditorium at Seattle's Benaroya Hall for an all-Hovhaness evening to be held on March 8th, 100 years to the day since Hovhaness's birth. Two of the works performed were the popular Magnificat and the lightweight Rubaiyat, the latter again narrated (as in the Delos recording) by actor Michael York. Due to a lack of publicity, the concert was loss making but Hinako never regretted her decision, stating "This concert is my [100th] birthday present to my husband".
A legacy for younger generations
Just as earlier converts to Hovhaness in the '60s and '70s discovered him mostly through the vinyl LPs put out by the MGM, Mercury and Poseidon Society labels, so younger generations have come to know Hovhaness through CDs and digital downloads that came from Delos, Koch, Telarc and Naxos. Most of these newer recordings would not have come to be but for the efforts of Hinako, who dedicated herself to what she knew would have pleased him the most, that his music continue to be heard. On that note, Hovhaness once spoke of his hopes for the survival of his music in terms of centuries rather than decades. Thus, Hinako Fujihara Hovhaness has a two-fold legacy; from her first marriage she is survived by her three children, from her second there are the many commercial recordings she brought about, which should no doubt improve the chances of Hovhaness's music being heard in those centuries to come.